Home Financing
So you're ready to apply for a loa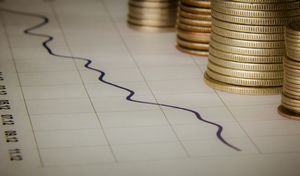 n, but you have no idea what you need or what all those crazy acronyms stand for.  Where do you start?
Your lender is the best place to start, as they are the experts and can explain everything to you.  But if you are like me (Sarah), I would want to have some general knowledge before hand.  So that's what we are gonna give you here.
First, you will need to get pre-approved, not pre-qualified.  What's the difference?
Pre-qualified means the lender looked at your information and gave you an opinion on whether you'll be able to obtain financing and how much.
Pre-approval means that the lender has verified your information and they are positive they can loan you the money.
You will need to fill out an application with the lender or lenders (you can usually do this online) and then set up an appointment to meet.  Feel free to shop around and meet with a few different lenders to make sure that:
You are getting the best deal for you
You are comfortable working with that particular person.
You trust that lender  (go with your gut)
You will also need to provide your lender with documentation of your personal financial status and that of any co-borrowers.  At some point, your lender will need (they may ask for more or less, depending on your individual circumstances):
Social Security Number
W-2 Forms from the previous two years
Pay Stubs (most recent months)
Employment History Summary
Bank statements for checking and savings accounts (past 3 months)
Creditor Information –  this includes debts like student loans, auto loans, credit cards, child support payments
Federal Tax Returns (for the past 2 years)
Complete Record of Assets
Stocks, bond, and investment accounts
IRA / Retirement plan
Life insurance policies
Automobiles owned
Construction loan
Gift letters
Documentation of other income
Your lender will also pull your credit score.  This will show the majority of your debts, so don't get crazy with pulling out your credit card filing folders unless they need them.
Once that's done, your lender should go through your loan options.
Here's a quick review of the different types of loans that are available in our area.  If you see one here that appeals to you, ask your lender about it.
Government Loans
FHA (Federal Housing Authority): This loan is one of the most common loans due to its affordable down payment of 3.5%.  You will normally have a "funding fee" that will be added to the top of the loan (to pay for the program) and any home will have to meet safety and structural standards.  There will also be a monthly mortgage insurance (PMI or MI) payment.  This is .85% of the purchase price and is there for the life of the loan.
VA (Veterans Administration):  This loan is for military members and their families. The last of the 0% down programs, there are also funding fees and strict home safety and structural guidelines.
Local Programs
South Dakota First Time Homebuyers  (SDHDA):  If you are a first time homebuyer, South Dakota has a program to help.  With income qualifications and price limits, they provide a low fixed interest rate, a low 5 year step interest rate, and even a slightly higher rate with a gift of 3% to help with closing costs and downpayments.  Downpayment is 3.5% as well.
Rural Development (RD):  For homes outside of Rapid City limits, this is a great local 0% down program (income qualification and price limits apply).  They also have a low income housing program that can help with your payment in some cases and can accept lower credit scores.
What
NOT
to Do
There are a few actions that you can take that will negatively affect your credit score and therefore your home purchasing power.  With new rules at play in the lending world, a large purchase on a credit card could affect your debt-to-income ratio – possibly putting your loan approval at risk.
If at all possible, you should avoid making a major purchase or changing your job if you're seriously considering buying a home in the next few months.
Most Importantly – Ask Questions!
Understand what you are getting from loan to loan and so there are no surprises later.
What kind of loan is your lender recommending for you?  What are the advantages and disadvantages?
What is the current interest rate? Is the rate fixed or adjustable?
If the rate is adjustable, how will rate and loan payment vary?
Is there anything that you need to do to qualify for this loan?
Is there anything that will disqualify you?
What is the estimated monthly mortgage payment?
How much of a downpayment do you need to pay?
How much are the estimated closing costs? (Your lender should provide a breakdown of these so you can compare it to other loans.)
Does the lender offer a loan rate lock?  Is there a fee for that?
With The Emond Team and your trusted lender, along with our arsenal of contacts, we'll take care of you from "just looking" to…
"We're Home Owners!"