If you are in Rapid City and are looking for an inexpensive way to enjoy the Holidays – you gotta check out the Christmas Light Display put on by Storybook Island.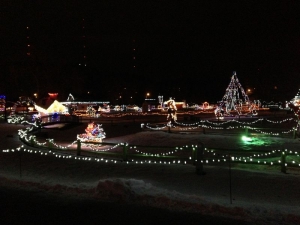 Storybook Island is a free park that brings alive all the stories we heard when we were kids – from Cinderella, Jack and Jill, Wizard of Oz, and Winnie the Pooh. Each story has it's own display – whether it be a house with a slide, or a train to climb up on, or just a figurine to stand next to and say cheese.  There's even a playground with swings, climbing bars and more!
At Christmas, the park comes alive the weekend after Thanksgiving.  Sponsors and Businesses donate their time to decorate each story in lights – and the park illuminates the paths with strings of lights to keep you (and your kids) on the right way.   They are open each weekend and the week of Christmas through New Years.
Don't just look at the lights – buy hot chocolate, see real live reindeer on display, and see the honorable Mr. and Mrs. Claus!  Don't forget to dance along to the Christmas music.
They do charge a small fee for entry – when Sarah and I went, it was $2 per person.   And this year, we went without the kids!
My favorite part is the Winnie the Pooh tunnel.  It's awesome.  Sarah is so short, she doesn't even have to bend over to go through!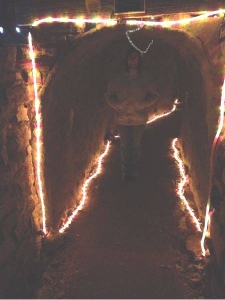 Christmas time in Rapid City.  Life is good.