Looking for a great way to explore the city and the Black Hills…that's fun as well?
You might actually see a few things you've never noticed before and learn a few pieces of history along the way.
Try Geocaching!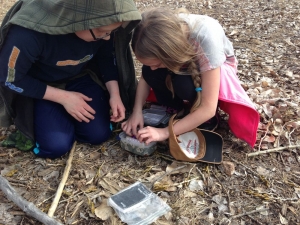 Geocaching is a techie scavenger hunt.  Others have hidden a "cache" somewhere, posted the gps coordinates online (with some hints if they are feeling generous) and you get to go and find it!  The cache can be a aluminum ammo box to a small ("micro") find – like in a 35mm film container (what's that? right?).  When you find a cache, you log in on the logbook included.  Some of the larger, "traditional" caches have small treasures inside – erasers, cars, coins, some people are lame and throw in their business card.  If you wish, take a treasure – but only if you have one to replace.   The kids love to see what they can get…
There are caches from the Presidents standing at the corners in Downtown Rapid City, Dinosaur Hill, and Sioux Park in Rapid City to backwoods places in the Black Hills you never knew were there.  Bring your climbing gear for some!
To begin, register for a free account at geocaching.com.  Type in a location and you'll be able to see all the different treasure caches for you to find.  Each one has a terrain and difficulty score to help you determine what is the best one for you.  This could be REALLY helpful if you have an 8 year old girl who complains how tired she is after 1/4 mile (been there…)
You can use a common gps device if you would like.  Of course, this is no fun if you have to manually enter in the coordinates to your device all the time.
Never fear – there is an app for that!  The best one is called c:geo on the android market.  Thanks to open source greatness – it's free and the best one we have found to use.  If you only have iDevices, there is an iPhone app you can pay for, but we haven't used it.
So go exploring…have some fun…and maybe come home with a treasure or 2.  (don't hold your breath on anything of great value, of course!)