Rapid City Neighborhoods Countryside
Subdivision – just off Sheridan Lake Road
Welcome to Countryside!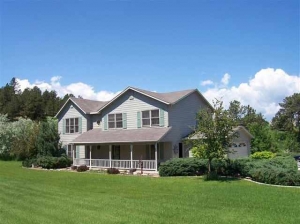 Located just a couple miles outside of Rapid City, this neighborhood is the perfect place for a home in the Black Hills without being in the Black Hills.  The streets are tree-lined and most lots are close to .5 acre – giving you the space you want to enjoy your home.  Wildlife viewings are common in backyards!
Homes in the area were built in the late 1980s and early 1990s.  They range in size from 1,500 square feet to 3,500 square feet with a mixture of ranch, split, and 2 level home style.  Most have at least a 2 car garage and plenty of back yard space.
Additional features include common areas with a park and walking path around the neighborhood.  Enjoy the beautiful Black Hills weather with your family and pets!
In late 2015, the neighborhood was annexed into the City of Rapid City to take advantage of city water and services.  The previous association water system should be connected with city water within the next couple of years.  Presently, each home has a private septic.
Other utility features include natural gas, broadband cable and internet, and adequate cellular service.
The neighborhood has protective covenants and an established Home Owners Association.
With only 2 miles to Rapid City, this neighborhood is close to a few small shopping outlets with food and services.  Another 3 miles is the south Walmart Supercenter and surrounding businesses.  New gas stations and restaurants are in the works, and I forsee continued growth along that Catron corridor.
But hey – you're out of town, why not enjoy the Black Hills in your backyard??  As you travel down Sheridan Lake Road, you'll find many picnic areas, hiking and ATV trails, rock climbing, trout fishing, and Sheridan Lake at the corner of Sheridan Lake Road and Highway 385 (makes sense, right?).
If the Rapid City real estate market continues to grow (as it has historically), don't expect to get into the subdivision for under $225,000.
Map disclaimer: The boundaries on the map have been established by me for a general idea of location. No warranties or guarantees are made to the exact location of any subdivision boundary.