Rapid City Neighborhoods – Edinborough, South Hill and Wellington Subdivisions
Near the corner of Highway 16 and Catron Bouldevard, there is an interesting southeast Rapid City neighborhood that consists of 3 subdivisions:  Edingborough, South Hill and Wellington.
Homes in this Rapid City Neighborhood were built in the 1999 to 2006 time frame.  But it's unique in it's composition of ho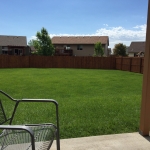 me types.
Edinborough consists mainly of ranch style homes with 2 car garages.  A few walk out basements in the right spots.  Acreages range from around .2 acres to .4.
South Hill has numerous 2000+ square foot townhomes – mostly ranch style with basements.  On the north end of the subdivision, overlooking the valley and Rapid City in the distance, are higher end single family homes – with 2+ stories and grand decks.
Wellington is a mixtures of nicely done townhomes and single family homes similar to Edinborough.
This neighborhood has paved sidewalks and a great subdivision feel.  Everyone takes care of their home and property.  The townhomes are not maintenance free – no HOA exists to take care of the lawn, building maintenance and property snow removal.  The City does remove the snow and collect garbages.
You can enjoy the city utilities and broadband internet/cable access. Restrictive covenants are in place for the enjoyment of everyone

With easy access to Catron Boulevard, you are minutes away from the southside Walmart, gas station, Arbys and other retail establishments off Catron Boulevard.  A few minutes more gets you access to the medical community and Rapid City Regional Hospital.  Down Highway 16 (Mount Rushmore Road) you are soon at grocery stores, restaurants and more.  Plus a short drive away from Black Hills attractions and trails.
Beautiful homes in a happy neighborhood with easy access to city services and comforts.