Rapid City Rush WIN!
The Rapid City Rush, Rapid City's own Central Hockey League hockey league, took the President's Cup National Championship this past weekend.  What a ride it has been.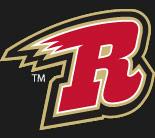 Just 2 years ago, the CHL announced an expansion team for Rapid City. 2008-2009 was the first season, and it hit the city with a storm.  Crowds packed the newly developed ice arena at the Rushmore Plaza Civic Center.  Window stickers, hats and jerseys started appearing everywhere.
The only word we use to describe it is "phenomenon."
Through much skepticism, the civic center was added on to a number of years ago.  And the City has seen the benefits of the work and money put in to the project.  Not only do we now have a semi-professional hockey league in town, but the arena opens up more possibilities for bigger venues to come to small town Rapid City.  Elton John performed recently, Carrie Underwood is scheduled to be here in December, Martina McBride was here in March, Olympians come and perform at the gymnastics and skating spectacular…the list goes on.
And the downtown has seen a benefit to the Rush as well.  People coming to watch the game stop and eat at one of historic downtown's dining establishments.
Excitement for the fans, satisfaction for the players, and a good call for Rapid City all the way around.
Let the cow-bells clang!