Golf in Rapid City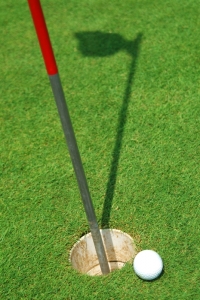 Pretty soon the snow will melt, the flowers and trees will be in bloom, and spring will be here at last in Rapid City. One of the most popular ways to get out and enjoy the weather is with golf! Golf has become popular all over the US and Rapid City is lucky to have a selection of great golf courses in the area. While the snow still falls, bring out those golf clubs and get them ready to go! Here is a wish list to get you started dreaming of 18-holes, golf shoes, and blue skies:
Fountain Springs Golf Course
Located 10 minutes outside of downtown Rapid City at 1750 Fountain Plaza Dr, Fountain Springs is a 3,000 yard course with water features, trees and varying landscape. A great course to begin the season! Set tee times by phone at 605.342.4653.
Executive Golf Course
Dust off your short game with Rapid City's own executive 9 hole golf course.   Located along Rapid Creek off Omaha St. at I-90 exit 57, it's a beautiful course among the trees and along Rapid Creek.  Make sure you get the ball over the creek on hole 2 and 8!  Call 605-394-4124 for tee times.
Meadowbrook Golf Course
A beautiful and challenging eighteen-hole course located on Rapid Creek.  Meadowbrook was rated #3 Golf Course in Rapid City by Golf Digest in 2011 and #3 Best Courses You Can Play in South Dakota by Golfweek in 2012.  Located at 3625 Jackson Blvd. Call 605-394-4191 for tee times or their website.
Golf Club at Red Rock
The most popular public golf course in the Rapid City area, the Golf Club at Red Rock is located at 6520 Birkdale. With 18-holes, a bar and grill, water features, rolling hills and beautiful views, the Golf Club at Red Rock takes tee times over the phone 605.718.4710 or online.
Hart Ranch Golf Course
A great course to learn how to golf at any age, Hart Ranch offers great instruction in addition to having one of Rapid City's most beautiful courses. Located at 23645 Clubhouse Dr, this course was named in Golf Digest's "Places to Play". Call 605.341.5703 or go online to book tee times.
Golf in Rapid City