Lady Antebellum Concert, Rapid City – January 2014
The civic center exploded with applause when the popular country trio took the stage at the Rushmore Plaza Civic Center.   Playing their classic songs as well as their new hits, they did not disappoint.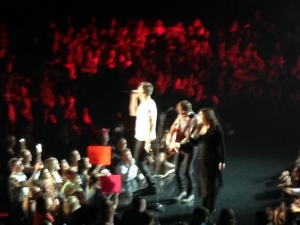 I particularly enjoyed the interaction with the fans.  One song, Charles walked through the middle aisle, high-fiving, shaking hands, tasting drinks (yeah – believe it or not) and inviting a pair of cute girls up to the stage for a dance later on in the show.  They spent time talking about their adventures, fun and more.
At the "end" of the concert, they initially left without singing their iconic song "Need You Now".  The fans were having none of that.  We clapped and stomped until they came out to sing their song and wish us all a great night.
Opening acts Kip Moore and special guest Kacey Musgraves played some great music as well, but you could feel the professionalism and confidence as the main act took the stage.
My wife and I have been waiting for a long time to see the show.  Originally scheduled for November, I was on the computer a few minutes before the start of the ticket sales in SEPTEMBER to make sure we got in.  (Carrie Underwood a few years ago sold out quick!)
Pictures are not great…just proof we were there…
An awesome date night with my wife, great music – and we didn't have to travel far to get star talent!  Surely a night to remember.
Tristan Emond